Black men loves round women
The beauty of fat, an Ivorian painter represents big women
from an article written by Francis L. Sackitey published in ChinaAfrique 2012/12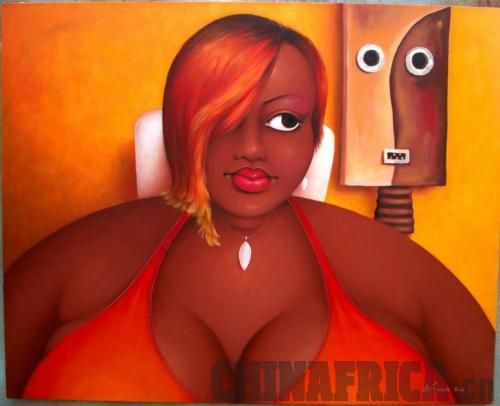 The beauty of African women is not always based on the mold of "Western beauty." Thin and slender women who walk the catwalk, are featured in magazines and won beauty contests, are the standard by which many women are judged. Unfortunately, many Africans, especially the educated people have joined this misconception of what true African beauty. But someone goes against this trend and uses his brush to do.
Ivorian painter Augustin Kassi creates works in which the African woman is shown vividly and impetuous. The true African woman, as he shows in his art, is buxom and shapely, representing at the same time generous mother and sensual temptress. Kassi also illustrates another aspect of the beauty of the African woman, who is his round face and chubby lit a smile despite the difficult economic and weather conditions prevailing in Africa.
"I do not paint only plump and large African women. They [the women in my paintings] are one of the most important aspects of African heritage, which I represent in my work, "he says. According to Kassi, fat women represent more than half of the African population and that is why he chose to represent them in this way in his paintings. He says that God enjoys the variety and that is why he created people of different shapes and sizes.
Believing that fat women have been neglected, Kassi is determined to pass under the spotlight through a foundation he created: "the World Art Foundation". The objectives of the Foundation, funded by the artist, are to fight against poverty and protect the environment. Kassi said his art promotes culture for future generations.
According to Kassi, his paintings have had a huge impact in Côte d'Ivoire and in most neighboring African countries, but the artist says he has not yet penetrated the United States, Europe and Asia. Kassi, who trained in art after primary school, inspired by its culture, its environment, its imagination and cultural experiences. "My art is an expression of myself," said Kassi. "I do not see myself as a rich man, but I can say that my art allows me to live. "
But what African women think Kassi work? Most of them approve and ask him to continue to represent them in this style. "We are real women in Africa and we find comfort in the fact that Kassi," said Fatuma, a women who appreciate the work of Kassi.
In Ghana, strong women and buxom frequently dance on stage and appear in commercials. Ghanaian television broadcasts often fashion for fat women called Miss Excel. Kassi definitely seems to have captured the heart of the women he depicted in his paintings to the appreciation of what he sees as true African beauty. Kassi hope that one day he will share with the audience a taste of the entire world.